Hiii, so today's review ini menurut aku super unik, ceritanya waktu itu aku lagi ke Papaya Supermarket buat cari barang, sekalian liat-liat snack baru yang kira-kira bisa di review dannnn aku nemuin ini nih, namanya Elvan Today Croissant.
Keunikan yang buat aku tertarik buat cobain dan review itu karena ternyata ini adalah Croissant Instant. Buat kalian yang mungkin belum familiar sama croissant, dia itu adalah salah satu jenis pastry gitu lah yang kalau di makan dalamnya itu bisa terlihat layer-layer nya. Pembuatan asli Croissant itu ribet lo guys, nggak seperti buat roti biasanya so this one really got my eye on it.
Jump to the review langsung ya introduction kelamaan, awalnya bingung banget ini produk dari mana karena bahasanya itu bukan inggris dan gak ada bahasa indo nya sama sekali. Tapi usut punya usut setelah aku menjelajahi packagingnya yang dipenuhi dengan bahasa asing itu ternyata ini adalah produk Turki yang sudah di impor ke Indonesia.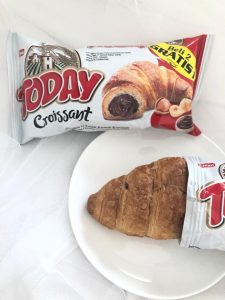 Nah ini penampakan dalamnya, ya menurut aku not bad lah ya karena ini kan product instant. Di packaging nya dianjurkan untuk dipanaskan terlebih dahulu sebelum di konsumsi. Jadi aku panasin deh, ak sih nggak ngikutin instruki panasin nya yang super ribet dan hasilnya…
Taraaaa… sebenernya jujur aku lumayan impress loh sama hasilnya, karena waktu masih hangat gitu dia bener an renyah kayak Croissant asli. Tapi yang aku kecewa cuma satu, isinya scam banget T.T. Isinya itu di gambar packaging nya kayak banyak banget gitu loh ternyata cuma segini. Tapi tetep menurut aku okay kok rasanya, isinya itu rasa cokelat hazelnut mirip nutella gitu deh.
Overall menurut aku produk ini tuh boleh banget buat di coba, cocok buat breakfast di rumah yang gak mau ribet, nemenin ngopi di sore hari juga cocok.
Rating : 3.5 / 5
Ukuran : 40 gr
Energi Total : 180 Kcal
Harga : Rp. 6.000-7.000 / bungkus (Waktu aku beli sih lagi ada promo Beli 2 Gratis 1 jadi lebih murah lagi)
Tempat Beli : Papaya / Ranch Market (aku belum liat di supermarket biasa sih, but menurutku produk ini pasti sebentar lagi bisa kalian temuin di supermarket terdekat guys).