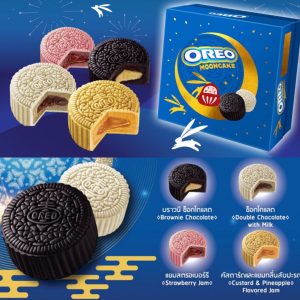 OREO MOONCAKE?!?!!! WHUAATTT?!?!! are you kiddingg?!?!! huahahhaha yes guyss this is it!!! giilaa yaaa inovasinyaa manusia ini ga habis" lho yaaa hari ini oreo mooncake besok oreo apa lagi cobakk!!! HUAHAHAH
who's excited for thiss?!?!!! cause i'm so excited for this crazyy!! huahaha ada 4 rasa nihh guyss yaitu: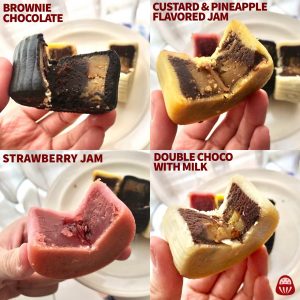 1. brownie chocolate.
okey guys the first one im sorry this is the bad one also :(( karena lho guyss brownie chocolate tapi aku waktu cobak bener" ga paham deh ini itu rasa apa.. aneh gitu lhoo guyss ga mengerti deh… kayak doi yg susah dimengerti HAHAHA lol no im just kidding kok:p
2. custard & pineapple flavored jam.
okey buat yang kedua, trust me this isn't custard or pineapple..=)) bau nya ajaaa bahkan sampai rasanya itu bener" rasa kopi sih!! anehh kann!! but enakkkk huahahha, cuman ini lebih ke manis kopi gt bukan pahitnya kopi guyss huehehe but this is nice!
3. strawberry jam.
okey yang ketigaaa stawberry!! enakkk nihh guysss strawberry jam nya nggak eneg sama sekaliii, dan ini tuh ada rasa kecut"nya gituu yang buat makin mantull huahahha
4. double chocolate with milk.
okeyy last but not leastt!! double chocolate with milk!! OMGG!! this is my favoriteeee!! sungguh deh guys ga bohong ini enakk buangetttt!!! milk chocolate enaknyaa itu enak bangett dehh!! sampek speechless w!! huahahhaha
Nah guyss sekarang ini aku tunjukin ke kalian lebih detail gimana bentuknya, warnanyaa mooncake oreo ini yaa huahahhaa
Okeeyy so far so good kok guyss. mooncake nyaa teksturnya enakkk lembuttt so smooth buanget dehhh, habis gitu ini warna"nyaaa sangat" cantik semuaaa bikinn ngilerr dehh hahahhaa, rasanyaa mooncakenya juga enakkk, tapii sayangnya aku cuman ga menemukan rasa OREO nya sendiri sihh gengss but ya enak kok tapi HAHHAHA dan satu lagi ini packagingnya bener" SO LUXURIOUS lho yaaaa totalitas banget deh merekaa hahahha:))) nih aku liatin bentuk packagingnyaa!!!