Thunder.. Feel the thunder, lightning and a thunder.. Lol jadi keinget lagu nya Imagine Dragon yang Thunder.
DELFI BIG THUNDER
Dari pertama dicobain Delfi Big Thunder ini aku udah terkecoh sama bungkus nya, kalau kalian lihat dari tulisan tulisan di bungkusnya pasti deh kalian juga kira ini snack dari Jepang.
Yes! Sama aku juga sempat mikir gitu,eh ternyata bukan loh. Jadi produk ini imported dari Singapore, Malaysia, Filipina dan Brunei Darussalam.
Dan dari pertama kali aku coba udah jatuh cinta!!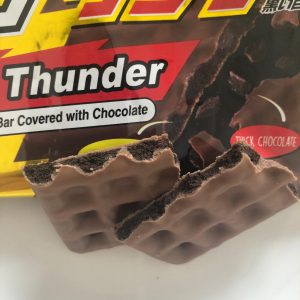 Nah ini dalamnya ya, so bentuk nya itu tipis gitu. Dalamnya ada cokelat ini, nah yang aku suka adalah karena sebenernya ini bukan cokelat dan juga kurang cocok kalo di bilang wafer, seperti yang kelihatan di foto itu mereka sih claim it as "Cookie Bar covered with Chocolate" menurutku itu kayak remahan oreo gitu atau biskuit cokelat gitu loh yang dilapisin sama cokelat lagi(?) tapi gak terlalu manis dan renyah, well guys kalian bener – bener harus coba deh ya.
Karena menurutku ini kombinasi yang bagus banget antara remahan itu dan cokelatnya. Jadi gak eneg makan cokelat saja atau makan wafer or biskuit gitu.
S U K A  B A N G E T pokoknya
Anyway di bungkus nya juga tertulis "Popular in Japan". Percaya banget deh soalnya aku suka banget dan pasti banyak dari kalian yang bakal setuju dan suka juga.
Rating 4 / 5
Ukuran : 36 Gr
Energi Total : 190 Kcal
Harga : Rp. 5.000 – 6.000 / bungkus
Bisa dibeli di Supermarket terdekat, Alfamart, Indomaret, Ranch Market dll.
Mereka juga jual versi box isi 10 bungkus 36 gr nya ya