Okaaayy emang sih dari nama nya itu "French Fries" dan sampe sekarang aku nggak tahu kenapa kok 2000 let's just guess kalo ini di launch tahun 2000 gitu yah HAHA
Anw ini juga mirip-mirip sama snack Monde yang lalu karena udah merupakan Snack Senior, yup walau emang sih kesenior an nya nggak se senior Monde.
Jadi snack ini berisi snack yang bentuknya mirip-mirip kayak pasta yang pipa itu loh atau yang bernama penne plus dilengkapin sama 2 tube saus "sambal"(katanye) yang sama sekali nggak pedes dan menurut aku lebih mirip saus tomat.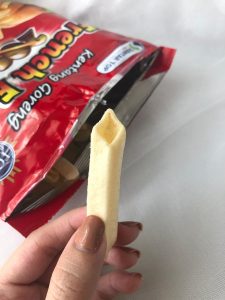 To be honest, sebenrnya kalau dari rasa sih okee yaaa, snack ini tuh tipe-tipe snack yang kalo dimakan pertama nggak begitu wow rasanya langsung suka tapi kalian bakal ketagihan buat makan terus terus dan terus apalagi kalo dimakan sama saus nya itu. Walau sejujurnya walaupun enak, rasa snack nya menurut aku sih kurang menggambarkan rasa "French Fries" nya. HAHAHA but anyway bener an aku kalo makan ini kayaknya ga bisa cuma 1 bungkus dan saus nya pasti habis bis bis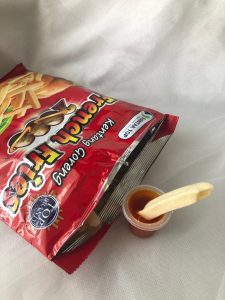 Nah kalau saus nya sendiri ya, rasanya itu kayak manis-manis gitu sih jadi sebenernya nggak sesuai sama claim nya yang "Saus Sambal" hahahaa. Tapi menurut aku rasa dari snack nya dan saus nya itu compliment each other banget.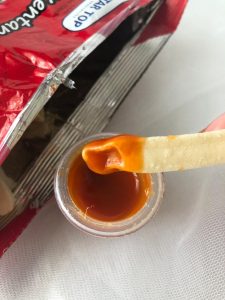 Rating : 4  / 5
Ukuran : 68 gr
Energi Total : 90 kkal
Harga : Rp. 7000-8000
Tempat Beli : Supermarket & Minimarket terdekat