Helloo guyss!! this is the 5 NEW MILO PRODUCTS!! WUHUYY!!! pecinta milo pasti harus banget dong cobain lima"nya ini!!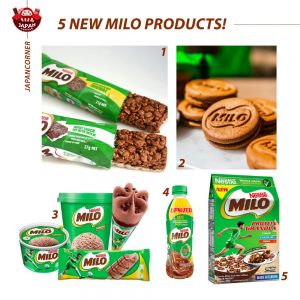 Oke guys firt of all Milo ini kluaran NESTLE ya guyss udah notice dong pasti huahahha kadang tuh kita makan nyemil tp jarang banget perhatikan ini kluaran dari mana snacksnya hahhahaha sekarang kita akan bahas satu per satu ya guysss 😉
#1 MILO ENERGY SNACK BAR : ORIGINAL & WITH MILK 
Untuk milo energy snack bar inii banyak yang bilang enak sihh bisaa buat snacks sehat tapi enak jugaaaa. Terbuat dari kombinasi unik dari potongan sereal milo sehat dan bubuk milo bergizi menyatu bersama dan dicelupkan ke dalam lapisan coklat putih hehhee klo kalian beli di Shoppe harganya +- Rp 172.000 / box guyss yaa hehehehe klo kalian bli eceran di supermarket pasti beda lagi kok huahahha
#2 MILO FILLED COOKIES
nah untuk milo filled cookies ini sendiri ya udah ketabuan lahyaa guyss cookies milo ini mahh huahahha di dalamnya ada feelling dari coklat milo nya gituuu!! dan katanya orang" sih susah susah gampang cari snack milo yg kmi huahahha klo kalian beli di Shoppe harganya +- Rp 13.000 an guyss 😉
#3 MILO ICE CREAMS
okeeee klo ada snacks yg kluarin ice creamm!!! plisss jangann lewatkam untuk cobak guyss!! soalnyaa ice cream itu bener" buat good mood buanget dehh sumpeehh T_T kayakk ga bisa nolak w mah klo sama ice cream huahahha dan untuk milo ice cream ini sih aku yakim udah banyak yg cobain dimana" udah gampang banget ditemuin, anw klo kalian beli di Supermarket" gitu sih harganya +- Rp 60.000 an guyss 😉 jadi pingin ice cream nih guyss:(
#4 MILO DRINK OATS BROWN RICE WHEAT & BARLEY 
oke keempat kita bakal bahas tentang milo drink oats brown rice wheat & barley, wetsehh diliat dari judulnya sih milo drinknya ini susah banget gitu ya guys huahahhaa rasa coklat milo nya pekat gituu deh guyss dan sehatt bedanya ada di brown rice wheat & barley nya klo kalian beli di Shoppe harganya +- Rp 128.000 / box guyss
#5 MILO PROTEIN GRANOLA
last but not least!!! milo protein granola!! ini sih katanya orang" susah susah gampang carinyaaa guyss. menemani breakfast kalian nihh guyss, jangan salah sereal milo biasa ya ini tuh ada granola nya guyss!! klo kalian beli di Shoppe harganya +- Rp 127.000 an guyss hehhehe 😉
gimanaa menarikk ya guysss!!! mana dari 5 ini yang udah kalian temuin dan cobak hayoo!! maybe yang nomor 3 udah paling gampang didapetin yaa guyss huahahhaha!!